Hand Tool Basics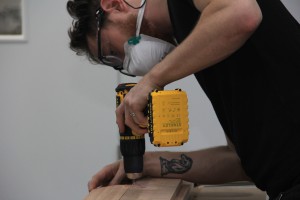 This is a great skill building class for adults who are looking to familiarise themselves with these tools before undertaking a DIY project. The class is also ideal for young people who are interested in learning how these tools can empower them to build whatever they imagine, from a skate ramp to a backyard roller coaster.

In this class, you will learn how to safely operate a number of the most frequently used hand tools. Your instructor will guide you through the proper techniques to cut, shape, assemble, and finish a small project.
Project
Learn to safely use the equipment with hands-on learning.
Prerequisites & Other Requirements
English language skills are preferable.
No other class prerequisites apply.
We recommend taking Basic Woodshop SBU.
Equipment access
Members can use the following equipment during their membership at any point:
Woodshop hand-held tools

(Link coming soon)
Class Time & Duration
Duration: 2:00 hours
Please see the scheduled class time and duration below. In case this class is not scheduled or already fully booked, please contact our Front Desk.
Safety
Mandatory: Closed-toed shoes, eye protection, and short sleeves. Pull back hair, remove all jewellery, and do not wear gloves.
Advisable: Hearing protection, particle filter, or dust mask
Age & Supervision requirements
Minimum age: 12
Maximum age: None!
Each class is tailored for a specific age group. Find the class that fits your age group.
During class, all 12 to 14-year-old students must be accompanied by a parent or guardian who is also enrolled in the class. When using the machines outside of class time, 12 to 14-year-old members must be accompanied and supervised by a parent or guardian who has passed the SBU.
Members who are 15 years and above can, after successfully passing this class, use this equipment for your projects whenever you work at Makers Oman as a member!
Please refer to our Minor & Shop Access Policies for more information.
Additional information
Meet 5 minutes before the class starts at Front Desk. Your instructor will meet you there to start the class.
Makers Oman reserves the right to cancel the class if there is an insufficient number of participants.
Registrations over the class size will be placed on a waiting list.
Please check your contact details in your personal account, so that we can contact you in case of any changes.
* Membership is verified at the time of the class session. Be sure to bring your badge.
---
| | |
| --- | --- |
| Non-Member Price: OMR 15.000 | |
---