Demo Tour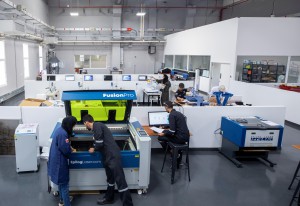 If you've ever been curious about Makers Oman, this 3 hours Demo Tour is the best way to experience what we have to offer. You will begin by taking a general tour of our facilities. Then your group will stop by 3 different shop tools to give you a better understanding of them as well as let you see them in action. Depending on the duration, tours can be amended according to interest with individualised giveaways, first hands-on equipment experience or detailed presentations on technologies.
Prerequisites & Other Requirements
No experience with any of the equipment is necessary, our trained and knowledgeable staff will help you through the tour.
The tour will be conducted on the preferable language of the group between Arabic or English
No other prerequisits apply.
Equipment Usage
Participants will be using the following equipment during the duration of the event under direct supervision of our event staff:
Powder Coating (Link coming soon)
Oven (Link coming soon)
Did you know? You can also use the equipment outside of the event! Makers Oman Members can, after successfully passing the Safety and Basic Use (SBU) classes, use the equipment for their own projects!
Event Time & Duration
Cost
Age & Supervision requirements
Minimum age: 8

Maximum age: None!
During the event, all 8 to 11-year-old participants must be accompanied by a parent or guardian who is also enrolled in the event.
Participants, who are 12 years and above, can participate in the event on their own!
Please refer to our Minors & Shop Access Policies for more information.
Number of Students
Each event is scalable and customizable to accommodate a variety of group sizes and interests. Contact our Events Manager for more information ">.
Safety
Closed-toed shoes are mandatory for all participants. Open-toed footwear of any kind is not permitted and unfortunately if this requirement is not met, we will not be able to allow access to the facility.
---
| | |
| --- | --- |
| Non-Member Price: OMR 8.000 | |
---